Our First Nations Commitment Statement
The Sunwater First Nations Commitment Statement frames our recognition of Aboriginal and Torres Strait Islander peoples as the First Peoples of this country and the Traditional Custodians of the land and waters we rely on.
The statement articulates our commitment to the Aboriginal and Torres Strait Islander community, including those who work at Sunwater, that we recognise their sacred connection to culture and Country and our intention to work together to achieve mutually beneficial outcomes.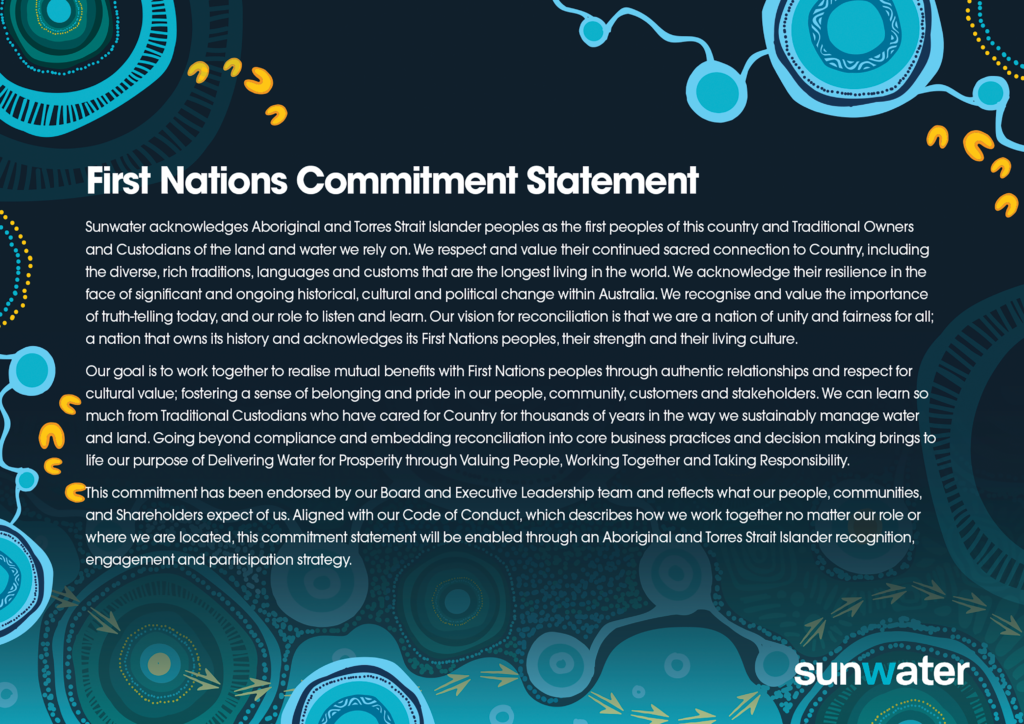 View the text description of this image
About the Artist: Elaine Chambers-Hegarty
Elaine is a descendant of Koa (Guwa), Kuku Yalangi, and Barada Barna peoples who now lives in in Meeanjin (Brisbane).
Elaine is the owner and designer of Cultural Edge Designs.  Her knowledge of Aboriginal art comes from her family's creative background and over 25 years' experience in the graphic design and print industry. 
Artwork explanation by Elaine Chambers-Hegarty
This is my story from my research. With water being one thing that our people always protected. We are pleased to know that Sunwater are also working on the protection of our waterways and catchments, as well as providing healthy household water and irrigation water.
The centre of my artwork represents a main water source around the townships, such as the dams and the weirs. Waters flow from the mountains and the valleys and into the main water sources. The main water source flows out to areas like a stream from the rivers.
We must keep these waters clean for our families for drinking water and through the irrigation of the lands. I have marked the communities or townships with the green circles, farming lands also surrounding and can also be known to our people as the areas they knew there was food because the water was healthy. It was also where animals would drink because they knew the water was good quality. Working together on the land and water, and sharing knowledge, makes for a more knowledgeable system.