Suppliers and Contractors
Sunwater is committed to driving value for money through our procurement and supporting local industry within regional Queensland for all its goods and services. This gives us the flexibility to match supplier solutions to the specific needs of a project, generating employment opportunities and providing economic benefits in the local community.
We work closely with industry to support our business in the delivery of construction, upgrade, repair and maintenance of capital infrastructure such as dams, weirs, pumping stations, pipelines and water treatment plants.
At Sunwater, we take environmentally sustainable responsibilities and workplace health and safety seriously with all providers of services. Our commitment is to provide a safe and risk-free environment for staff, contractors, customers and the community, which extends past our responsibility as a bulk water service provider. Central to our corporate culture is the value placed on safe work practices and taking every measure possible to ensure the safety of others.
Contractors, consultants and suppliers of goods and services that operate in these industries are encouraged to tender for the supply of goods and services, when and as required by Sunwater.
Doing business with us
Doing business with Sunwater is simple. Suppliers and Contractors who have been selected to provide services or goods to Sunwater must complete the following easy steps:
1. Read Sunwater's Supplier Code of Conduct
2. Read Sunwater's Request for Quote (RFQ) Conditions
3. Read Sunwater's Request for Offer (RFO) Conditions
4. Read Sunwater's Conditions of Contract:
For Sunwater purchase orders that state "Minor Services, Goods or Works Conditions of Contract apply to the supply", the following relate to the terms and conditions:
For Sunwater purchase orders that state "Minor Services or Goods Conditions of Contract apply to the supply", the following relate to the terms and conditions in recent years:
The Sunwater Contractor Induction must be completed prior to undertaking any work on a Sunwater premises or site. This will be followed by a site specific induction/checklist with a Sunwater representative upon arrival to site. Please coordinate your induction requirements with your Sunwater Site Representative.
Please view the Contractor Induction Online Portal guide.
Upon successful selection as a Sunwater Vendor, a Sunwater representative will forward you a Vendor Registration Form to complete. Please complete the form and attach applicable Insurance Certificates and a copy of your Bank Deposit Slip, Bank Statement or Bank Cheque by replying to the original email.
Tenders
All Vendors interested in supplying goods or services to Sunwater should ensure that they are registered on the Queensland Government QTenders website to receive notifications for open tenders when they are posted.

Maximising Queensland suppliers
Sunwater complies with the Queensland Procurement Policy—the government's overarching policy for the procurement of goods and services.
The policy aims to maximise Queensland suppliers' opportunity to participate—by ensuring that for each procurement opportunity, at least one regional and one Queensland supplier, where possible, is invited to submit a quote or tender.
The map below shows Sunwater expenditure during the financial year of 2018–2019, in which 79 per cent of Sunwater's expenditure was undertaken via Queensland-based suppliers.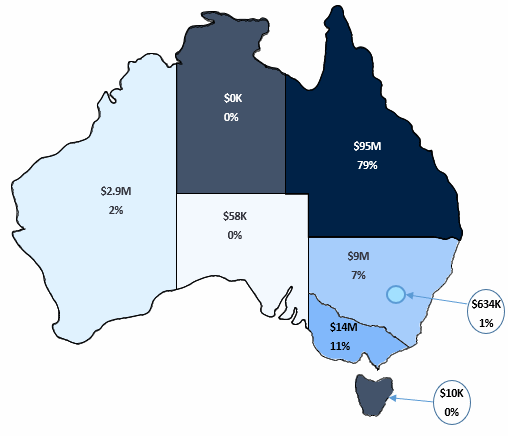 ---