Fairbairn Dam
16.91%
Gindie

CURRENT ALGAE LEVELS Low (Green)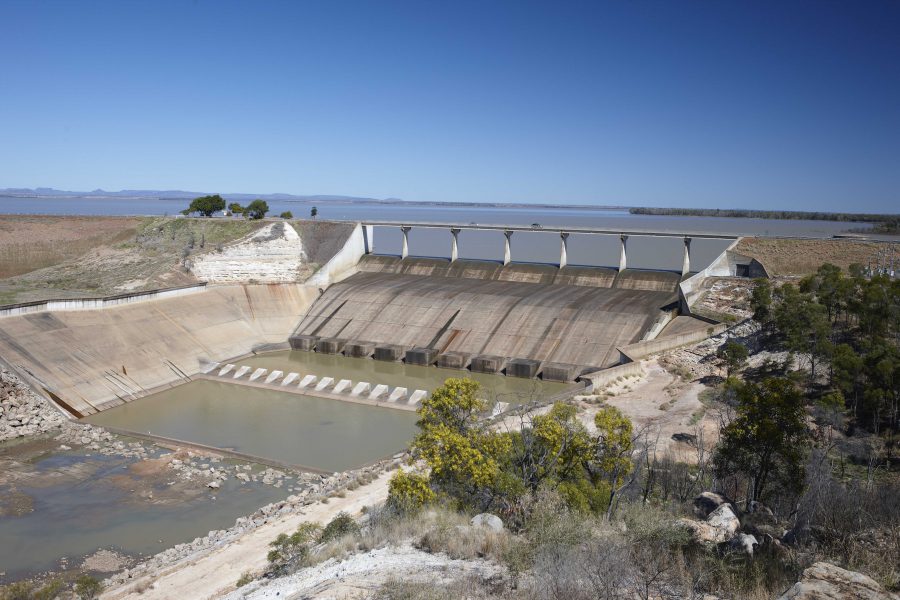 CURRENT CAPACITY
16.91%
3:35am 28.02.2020
STORAGE CAPACITY
1301000
Mega Litres
HISTORICAL LOW
0.02%
27.08.1974
HISTORICAL HIGH
175.87%
31.12.2010
Fairbairn Dam
Selma Road

Gindie

Queensland

4702

Facilities
Fishing
Fishing is not permitted within 200m upstream and 400m downstream of the Fairbairn Dam wall. A fishing permit is available from Fisheries Queensland that sets out the conditions under which you can fish at Queensland dams. For more information, contact Fisheries Queensland on 13 25 23.
By far the most popular fish at Fairbairn Dam is the Redclaw crayfish. Other fish include Barramundi, Silver Perch, and Golden Perch.
Boating
Boating is allowed at Fairbairn Dam. Please be aware that boating, skiing and other water activities are not permitted within 200m of the Fairbairn Dam wall. For more information about what water activities are allowed on Lake Maraboon contact Maritime Safety Queensland (Gladstone region) on (07) 4971 5200.
Camping
Camping is not permitted on Sunwater land at Fairbairn Dam, however camping is available at the nearby Lake Maraboon Holiday Park. Phone 07 4982 3677 for details.
There are numerous other areas in and around Emerald that are suitable for camping. For more information, contact the Central Highlands Visitor Information Centre on 07 4982 4142 or email emerald@capricorntourism.com.au
Pets
For everyone's enjoyment and safety, please keep your pet on a leash or restrained during your visit.
Rubbish
Help us keep all recreational areas clean and tidy by using the rubbish bins provided. If rubbish bins are full please take your rubbish with you. Please also take any seafood rubbish with you to reduce odour.
Antisocial behaviour
If you observe vandalism, antisocial behaviour or any illegal activities, please contact the Police immediately on 000.
Commercial or large group activities
Please note that approval is required for the use of Sunwater land for any event or function other than normal visitor activities in approved recreational areas. Events or functions include, but are not limited to fishing, swimming, rowing, boating or skiing competitions or displays, community events, weddings or other organised activities. To gain approval, submit a General Application for Access to Sunwater Land or Infrastructure and Events, or contact us on 13 15 89.
Motorcycles and other vehicles
The recreational use of registered and unregistered motorcycles and four wheelers within the camping area and the surrounding private property is strictly prohibited. The speed limit in the camping area is 20km/h.
Dam safety
Stay safe by looking out for potential hazards and risks.
Dam history
Fairbairn Dam
Emerald may not have become the centre of the food bowl it is today if not for a decision in 1948 by the British Food Corporation to grow sorghum in the area. Sorghum's success demonstrated the viability of cropping in the region's rich black soil, and Emerald's fortunes changed.
As agriculture grew, the need for stable water supplies grew with it, and the decision was made in 1968 to build the giant Fairbairn Dam, the state's second biggest after the Burdekin Fall Dam. It is named after David Fairbairn, the Federal Minister for National Development at the time.
Construction was completed in 1972 and the storage it formed, Lake Maraboon (Maraboon is a local Aboriginal name for "where the black ducks fly"), holds 1,440,000 ML of water.
The dam's primary function is to store water for irrigation, industrial and urban use and was not designed for flood mitigation and does not include a flood-mitigation compartment however does provide some flood attenuation benefits to downstream communities.